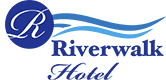 Quick Reservations
Wedding Receptions & More!
Testimonials
Neenah Weddings
The Character. The Charm.

Wedding Receptions in Historic Downtown Neenah

Experience warm, genuine hospitality while surrounded by natural beauty when hosting your wedding reception in Downtown Neenah, WI. If you are planning an event for 50 or 350, the Riverwalk Hotel Downtown Neenah has all you need to make your wedding day a truly special event. Our experienced wedding coordinators will help make your wedding day memories lasting, beautiful and worry-free.

Governor Doty Ballroom
can host up to 350 guests for a wedding reception. Whether it is casual, formal or modern our specialized professionals will assist you in adding your personal touches to make your day perfect.

Riverside Room
can host up to 150 guests for a wedding reception. Perfect for an intimate event and priced to fit your budget.


A variety of rooms are also available for your ceremony, bridal shower, rehearsal dinner and gift opening!

For more information, call (920) 725-6498.
Planning a wedding reception will be one of the most important and exciting things you will do in your life, but sometimes it can be overwhelming! The professional catering staff at the Riverwalk Hotel Downtown Neenah is available to assist you in every way possible. The following services and amenities are included with your reception at no additional charge:
Complimentary champagne toast for the head table

Round tables seating 8

White or ivory linen tablecloths

Linen napkins in a variety of color choices

Skirted head table on risers

Skirted gift and cake table

Complimentary cake cutting

White columns with tulle, ivy and white lights to highlight your entrance

Dance floor

Complimentary centerpieces

Guest book table or podium and card box choices

Ballroom rental fee waived with food minimum

No fee for bartenders

Block of sleeping rooms for your wedding guests (based on availability)

Complimentary guest room for bride and groom

Special discounts for bridal showers & rehearsal dinners

Complimentary gift opening room for the next day
Friday & Sunday Wedding Receptions
The Riverwalk Hotel Downtown Neenah offers additional benefits for a Friday or Sunday night receptions. With a confirmed booking, receive all of the Saturday wedding amenities and the following:
Complimentary champagne toast for ALL guests

One additional complimentary guest room

Reduced food minimums


Special Events
Your perfect choice for an exceptional social event experience, the Riverwalk Hotel Downtown Neenah accommodates up to 350 with over 11,000 square feet of event space. When hosting an anniversary party, birthday celebration, baby or bridal shower, retirement or other special gathering, our catering professionals are dedicated to creating a memorable event.
For more information call (920) 725-6498.
Guest Room Blocks
Looking for a block of rooms for your out-of-town guests? Let us help you with that, too!
View the flyer here for more information!
Hotel Calendar
Visit the Riverwalk Hotel Calendar to find out about exciting upcoming events!