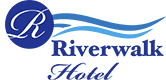 Quick Reservations
Wedding Receptions & More!
Testimonials
Neenah Hotel Reservations
You are on the right path to a relaxing stay.

Power at your fingertips!
Instantly book your room online (enter dates above) or call us directly at (920) 725-8441.

Why book directly with us?
You will get the guaranteed best rate available booking directly on our official private website and we provide services third party travel sites do not.
No fees, no pre-payment, no hidden charges - We offer the freedom and flexibility other sites do not. Payment is due at time of check-in, unless guest selects an Advanced Purchase booking*. See details below.
Plans change? No problem! - You always have time in advance to cancel your reservations made directly with us at no charge.
Best rates, more choices - We offer the widest variety of special rates and the most room choices right here at the hotel.
Hotel Calendar
Visit the Riverwalk Hotel Calendar to find out about exciting upcoming events!